Canberra Deaf Club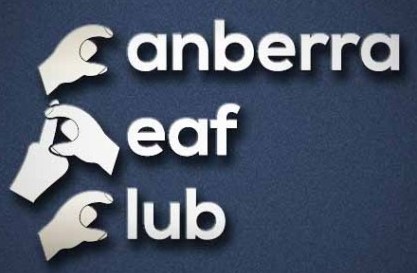 Canberra Deaf Club (CDC) is a social group for everyone to get together at Woden Southern Cross Club on the last Friday of each month.
The club's original mission is to provide a place for deaf and hard of hearing people and their families or friends. Auslan students and even anyone who is keen to learn sign language are more than welcome to join! The club is open to everyone and entry donation is a gold coin ($1 or $2) and no membership is required. https://www.canberradeafclub.org.au/
Parents of Deaf Children
Parents of Deaf Children (PODC) is a non-profit organisation, dedicated to supporting families with babies, children and teenagers with hearing loss in NSW and the ACT. PODC empowers parents and carers in NSW and ACT to support their deaf or hard of hearing child in reaching their full potential through providing independent information, support networks and representation, while respecting the method or methods of communication that the family has chosen. PODC provides support by connecting families to others in their local area via POD (parent) groups by organising social catch ups in the park and other organised outings. Visit www.podc.org.au for more information or to become a member.